Cockfighting is an ancient and controversial blood sport practiced around the world. Tajen: Interactive, a web documentary, made by visual anthropologists, uses different modes of representation to evoke and explain the cultural, historical, and psychological aspects of cockfighting in Negara, Bali.
Sensory ethnography allows an uninterrupted flow of sights and sounds. Expository documentary uses traditional interview and b-roll to delve into personal opinion. Creative shorts using mixed media, kinetic animation, and whiteboard drawings bring relevant concepts to life. This diverse approach entertains and educates as viewers navigate the material and create their own interactive journey through the world of cockfighting.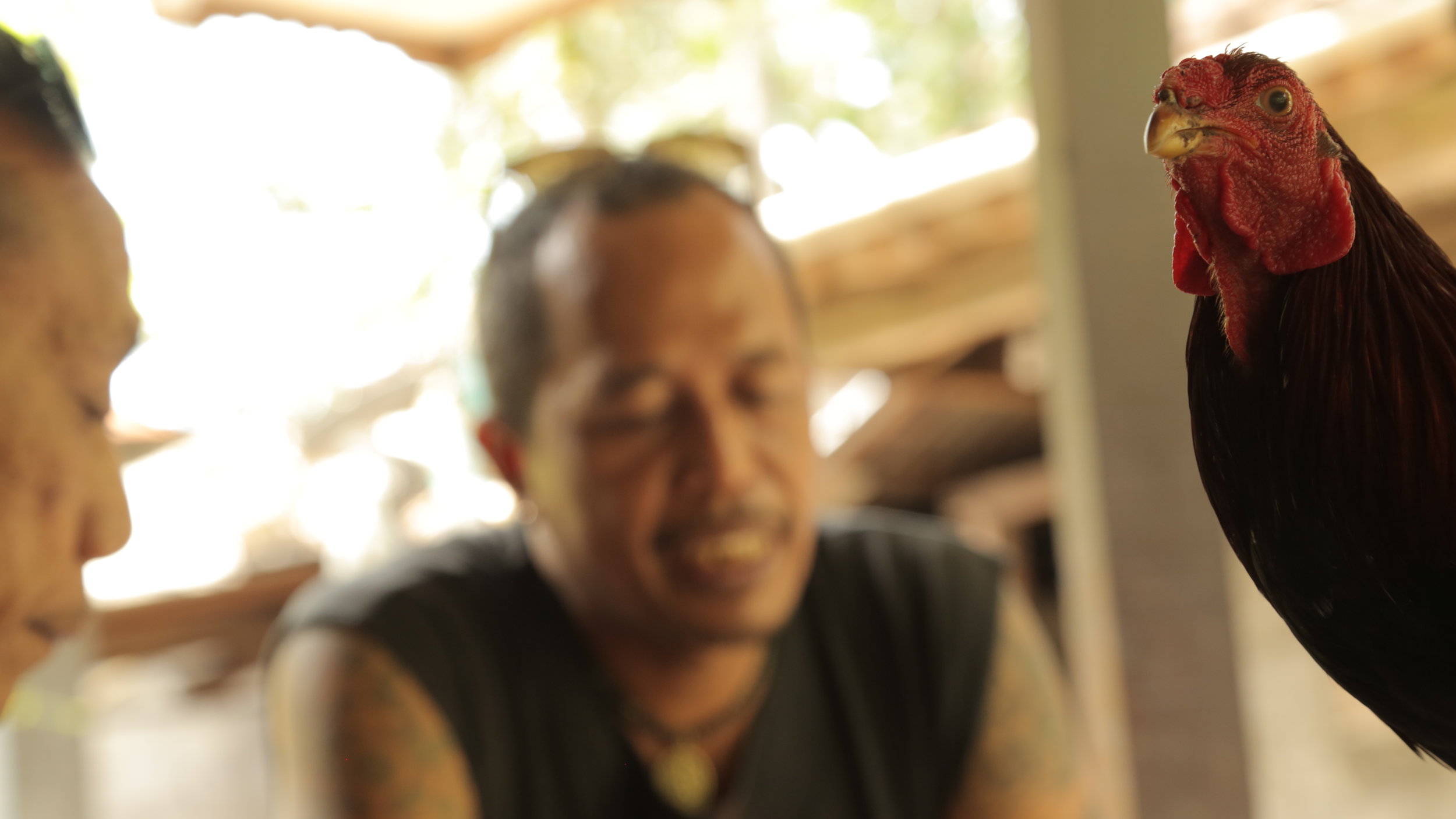 TOPICS
Deep Play: Notes on a Balinese Cockfight

Perspectives on Geertz

Cockfight history and anthropology

Structural and applied anthropology

Gamecock selection, training and lore

Blade lore and selection

Globalized animal rights perspective

Cultural factors in behavioral disorder

Cultural and moral relativism

Human universals

Betting then and now

Balinese manhood

Compulsive gambling

Ethnographic pragmatics

Functionalism
methods
Sensory ethnography

Expository documentary

Stop motion

Mixed media

Kinetic typography

Whiteboard drawings

Discussion questions

Articles
ROBERT LEMELSON
BRIANA YOUNG
ANNIE TUCKER
YEE IE

NI LUH GEDE SRI PRATIWI
DARWIN NUGRAHA
WING KO, INDRA KUSUMA
Co-Director/ Producer
Co-Director/ Producer
Writer
UX Design

Field Producer + Interview
Camera Operator
Assistant Camera
Tajen: Interactive is a web documentary by Elemental Productions, which represents a new direction in our ongoing work in ethnographic film. We have alighted on the term "visual psychological anthropology" to encapsulate our particular methodology, which incorporates and adapts the evolving priorities, methodologies and fieldwork techniques from the sub-discipline of psychological anthropology into the production of ethnographic film. This orientation can productively inform every stage of visual ethnographic research from collaborative project planning, to interview strategies, to stylistic visual and narrative devices, to multi-modal presentations that respond to recent neuropsychological findings about the way people learn.
Tajen: Interactive was conceptualized as a visual ethnography that would complement Clifford Geertz's seminal piece, "Deep Play: Notes on the Balinese Cockfight" and bring the study of the Balinese cockfight into the 21st century. First published in 1973, "Deep Play" remains one of the most influential articles in the field of anthropology and required reading in many introductory courses as an example of evocatively written interpretive cultural anthropology.
Tajen: Interactive takes Geertz's article as a jump-off point for new "thick depictions" (a la Lucien Castaing-Taylor) and investigations of the practice, incorporating new research approaches, foci, and techniques, while also addressing some of the critiques leveled at Geertz's piece and filling in some of the gaps in his research.
Tajen: Interactive explores multiple cultural, historical, and psychocultural aspects of Balinese cockfighting—from ritual lore to gender identity to interspecies relationships. Different modes of representation are used to capture, evoke, and explain these different facets.
Ultimately, it is our hope that this experimental and diverse approach will appeal to students with different learning styles and general viewers alike, and offer an active and entertaining educational experience that still gets at the heart of cultural information and anthropological theory.
Awards
Win­ner, Platinum Remi Award in Interactive-New Media, WorldFest-Houston International Film & Video Festival, Houston, TX, 2018
Festivals
Society of Visual Anthropology Film and Media Festival, San Jose, CA, 2018

WorldFest-Houston International Film & Video Festival, Houston, TX, 2018

Seattle Transmedia & Independent Film Festival, Seattle, WA, 2018

Screening Scholarship Media Festival, Philadelphia, PA,, 2019

Intimate Lens Film Festival, Caserta Italy, 2019

Nevada City Film Festival, Nevada City, CA, 2019
Conferences
117th Amer­i­can Anthro­po­log­i­cal Asso­ci­a­tion Meet­ing, San Jose, CA, 2018

Visual Research Conference, San Jose, CA 2018

American Ethnological Society and Society for Visual Anthropology Joint Spring Conference, Resemblance, Philadelphia, PA, 2018

Society for Psychological Anthropology, Philadelphia, PA, 2019
Screenings
UCLA Mind Medicine and Culture Group, Los Ange­les, CA 2018